Walkersville High School - Class of 1997 Reunion and Alumni information
21.Apr.2022:I've uploaded the Walkersville High School Class of 1997 Senior Wills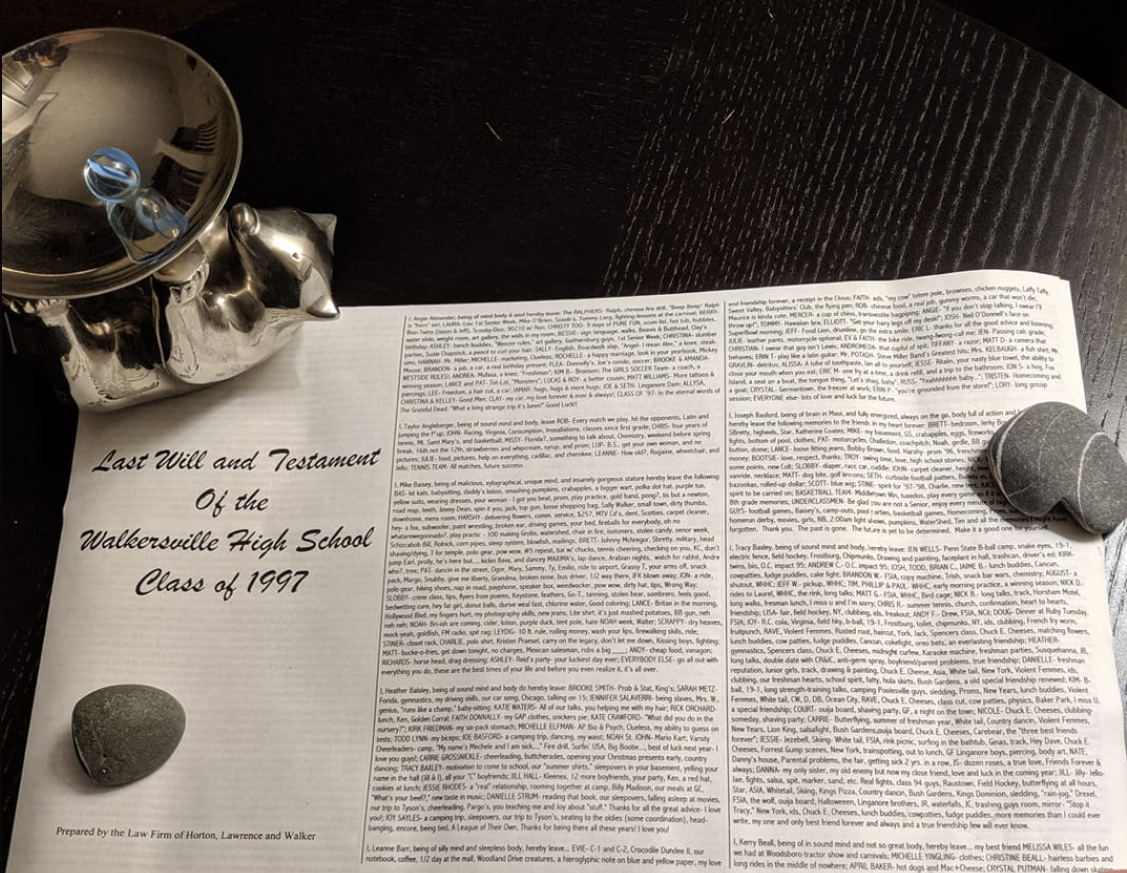 .
20.Apr.2022:I've uploaded the Walkersville High School Class of 1996 Senior Wills.
13.Jun.2007: I've added Jill's photos to the WHS2007 Reunion Picture Gallery.
9.Jun.2007: WHS's Class of 1997 Reunion was held at Brewer's Alley in Frederick. It was a great chance to meet up with old friends (and in some cases, their new husbands and wives!)

Please send any photos you'd like posted here to bayden

. If you don't hear back from me, it's likely that your message was too big... send me a plain-text message and we'll figure it out. Thanks to Nicole and everyone who attended!
25.Feb.2007: Posted finalized plans for 2007 reunion.
19.Jun.2006: It's 2:30am and I'm cruising the web; I was thinking about AP English while reading Frank McCourt's "Teacher Man". I ran into a new alumni site (see below) that has a few of us listed, and Nicole has started a thread on Classmates.com asking for reunion suggestions for next summer.
23.Dec.2005: It's been about 3,120 days since we graduated and I'm feeling nostalgic as I'm home for the holidays, so I plunked down my hard-earned 9 dollars for a URL that may or may not get used. :-)
---
Other Links
The official Walkersville High School homepage
Aerial view: WHS on VirtualEarth
---
Alumni / Alumnae
Note: Email addresses are not linked to foil spam-bots.
Who are you
Where are you?
How can I get in touch?
Josh Beaton
Elkridge, MD
jkbeaton
Jessica Bender (Ryan)
Hagarstown, MD

jessiesmp

Brian Blodnikar
Taneytown, MD
bblodnikar
Shaun Boltz
Columbia, MD
boltzst
Lori Cosner (Foster)
NJ
http://www.myspace.com/pgnpixi
Patrick T. Currier
Arlington, VA
Jennifer Divelbliss (Myers)

Greencastle, PA

sjdivelbliss
Kelly Donovan (Ritchie)
Jefferson, MD
kellnrobdonovan
Abby Gearhart (Green)
Clear Spring, MD
www.myspace.com/abbygearhart or greenhdwe
Caitlin Gordon
Charlotte, NC
rocketdoll
Thomas Harter
Knoxville, TN
http://www.myspace.com/tomsphilosophypage
Anson Horton / Rachel Horton (Hotovy)
Bothell, WA
Sheri Hudspeth (Carson)
Woodbine, MD
shudspeth
Erica Kelley (Engle)
Gilbert, Arizona
TheKelleys119 http://thekelleys119.blogspot.com
Colin Klein
Australia
http://www.colinklein.org
Eric Lawrence
Austin, TX
https://ericlawrence.com
Jeff S. Leydig, Jr
Frederick, MD
jsleydigjr
Crystal Study Lewis
MD
cstudy79
Todd Lynn
Harrisonburg, VA
toddlynn1
Kimberly Mahler (Cooper)
Columbus, OH
Jill Mandichak (Hall)
Leesburg, VA
mandichak
Carrie Pollock (Grossnickle)
Germantown, MD
[email protected]
Matthew Walker
Savannah, Georgia
MySpace or mjw012679 or
Matthew.J.Walker
your information here?
Contact me if you want your contact information & news shared here. Eventually I'll get a message board set up here, or point this URL at a site intended for such things. :-)
---
NEW ANNOUNCEMENT: WHS 1997 Graduates' 10 Year Reunion
When:
Saturday, June 9, 2007
Where:
Brewer's Alley Restaurant and Brewery
124 N. Market Street
Frederick, MD 21701
301-631-0089
Food & Drink:
Light fare and cash bar in private room
Cost:
$25.00 per person, mailed to address below, POSTMARKED BY MAY 31, 2007
After May 31st, cost is $40.00 per person (Cash only) at the door
Questions you may have:
Q: Why do I have to pay $25 when we have a cash bar?
A: The class has no money! There is no secret bank account with Prom proceeds or goodwill donations to fund reunions. At this point, we need to cover the costs of the reunion and attempt to build up a reserve for future reunions. And really… $25 is rather cheap. Ask a few of your coworkers and new friends…this really isn't an expensive reunion.
Q: How can I help?
Spread the word!!! Dig out old phone numbers and contact information and tell as many other '97 graduates as you can! Many of our families have moved, which would make a mailing rather ineffective, so do your part by contacting some old friends!
Q: How will I obtain information about reunions in the future?
Our official site is www.whs1997.com http://ericlawrence.com/whs/. In the future, please refer to the site for reunion information.
Q: I have more questions or need more information?
Email Nicole Losapio: nicolepetroski