| | |
| --- | --- |
| Things I put up with.... | 4/5/2012 4:42:00 AM |
From: Rae J.
Sent: Thursday, April 05, 2012 3:09 AM
Subject: Fiddler Did Not Work for Me and Made Internet Browsing Worse!
Hello,

I installed Fiddler 2.0 software yesterday at the recommendation of Microsoft Zune personnel and it made my situation worse. I am extremely disappointed! Not only can I not log on to my Zune profile, my other Internet browsing activities are damaged by my having to check certificates for each and every site! This was completely not worth it. I cannot even uninstall this lousy software! If I cannot find a way to uninstall Fiddler 2.0, I'm taking my laptop with me to work ([Elided]) and having someone from IT figure it out and then I will post a caveat on my social media outlets publishing the instructions I received from Microsoft Zune personnel, posting your http:// address and detailing the nature of my resulting problems to warn others away from ever trying Fiddler 2.0 and to speak out against it should they have also come across the same disappointing experiences.

[Full name Elided]
[Title Elided]
[Address Elided]
[Email Elided]
[Phone number Elided]
---
Dear Rachel,
I'm sorry to hear that you're frustrated. No one likes to be frustrated.
Having said that, I think you should talk to your Mom or Dad about proper behavior when you're frustrated and how to get help from people you don't know to use tools that you don't understand. Perhaps they can help you understand how to remain polite while frustrated. Alternatively, they might suggest that if you're going to threaten someone you don't actually know, you probably ought not do so in an email that contains both your private email address and your phone number. That's just not a good idea.
Fiddler uninstalls like nearly every other piece of software on Windows—through the Add/Remove Programs control panel. Simply Select Fiddler and select Uninstall.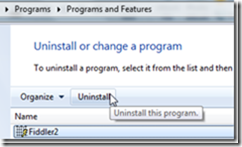 I don't know what you mean about "having to check certificates for each and every site" but Fiddler literally does nothing when it's not running. If you don't want Fiddler to capture your traffic, simply close it. Just click the Red "X" button:

I hope you have a nice day, Rachel.
-Eric